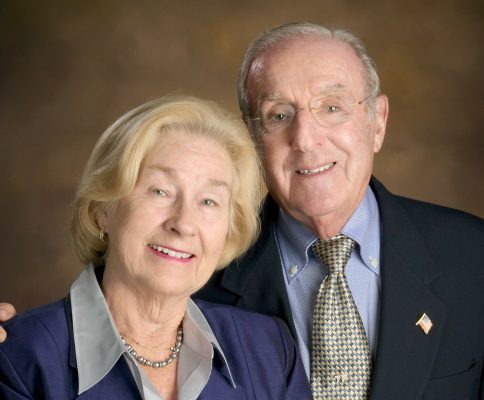 If you grew up or lived in West Michigan in the 60s through the 80s, you're sure to remember the voice of Tom Fox. Tom and his wife Mickie owned a number of jewelry stores throughout the Midwest with headquarters in Grand Rapids. He was an early master of TV advertising and is well remembered for his "Hi, I'm Tom Fox!" opening to his ads. His specialty was diamonds and he could talk with passion and enthusiasm about the beauty and everlasting quality of a diamond.
In addition to diamonds, Tom and Mickie understand the quality and importance of giving.  Through their Donor Advised Fund, they contribute to several organizations devoted to helping children all over Grand Rapids including Ronald McDonald House, D.A. Blodgett for Children, Mary Free Bed, and Hope Network.
Both native to the Grand Rapids area, Tom and Mickie have always called West Michigan "home."  They met in Tom's dad's jewelry store on Monroe Avenue in Grand Rapids. She was working on the optical side of Fox Jewelers and Opticians. They were married at 26 and 27 years of age and celebrated their 52nd wedding anniversary spring of 2007.
Recently, the Community Foundation honored Tom and Mickie with the Jack Chaille Community Philanthropy Award for their devotion to the community and the Foundation.  With a lead gift for the Foundation's new offices, the Community Foundation and all of Grand Rapids feel the Fox's generosity.