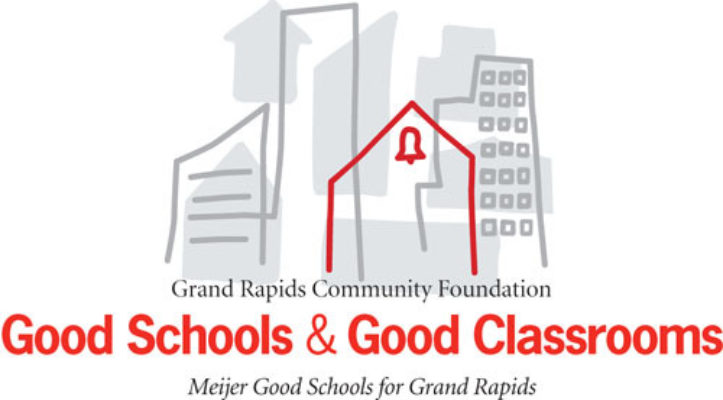 Three Grand Rapids Public elementary schools received $91,000 in total grants from the Meijer Good Schools for Grand Rapids Program, which recognizes area elementary schools demonstrating measurable success. In addition, 67 teachers and students from Grand Rapids Public, Catholic and Christian schools received a total of $116,375 in Good Classrooms minigrants. These schools and classrooms will be recognized at a special event on May 5, 2010.
The Meijer Good Schools for Grand Rapids Program is an initiative of the Grand Rapids Community Foundation and is funded by The Meijer Foundation, with support from the Bank of America Charitable Foundation.
The program rewards area elementary schools based on their ability to address nine benchmarks for student success. Grant awards, which can be as high as $75,000 per school, are based on each school's student achievement levels and other criteria.
Meijer Good Schools grant funding can be used for any activity that enhances a school's efforts to meet the program's benchmarks for success, including professional development and training, parental and community involvement, and equipment and materials for students.
The three 2010 Meijer Good Schools grant awards winners are:
CA Frost Environmental Science Academy (1460 Laughlin St NW) receiving a $46,500 Meijer Good Schools grant. CA Frost is recognized for achieving test scores that rival its suburban counterparts. In 2009, 98 percent of fourth graders met or exceeded state standards in Math and test scores are consistently high across the board.
Harrison Park Elementary School (1440 Davis Ave NW) receiving a $23,500 Meijer Good Schools grant. Harrison Park is recognized for being a school with focus—focus on data to improve student achievement, focus on achieving an ordered and accountable environment, and focus on understanding and responding to student needs. This focus creates a common understanding around a shared strategy to improve outcomes for students.
Sherwood Park Global Studies Academy (3859 Chamberlain Ave SE) receiving a $21,000 Meijer Good Schools grant. Sherwood Park successfully leverages a focus on social studies to create an inclusive environment for the student population, one third of whom are English Language Learners. Although highly diverse culturally, racially, economically and linguistically, data is used pervasively at Sherwood to continuously enhance student learning.
Additionally, the Community Foundation is awarding $116,375 in Good Classrooms minigrants to 67 teachers and students. Good Classrooms minigrants fund innovative classroom projects that might otherwise be beyond the school budget in Grand Rapids Public, Catholic and Christian schools. Examples of this year's projects include:
$3,000 for Robotics Alive at All Saints Academy, to offer a hands-on experience for students to design, build and program a robot to perform specific tasks.
$1,500 for HIPP Biology at Central High School, to reinforce students' thinking of the scientific method. HIPP stands for Hypothosize, Investigate, Put into Practice.
$1,500 for Let's Play Music (Mdwewechigedaa) at Grand Rapids Native American Program, to purchase hand drums and flutes to enhance students' knowledge of traditional music and dance.
$2,993 for Eetchy Speechy at Sibley Elementary School, to provide kits and training for staff to work on oral language fluency and expression.
Grand Rapids Community Foundation's support of education has spanned several decades, beginning in 1947 with scholarships to address a local nursing shortage. Today, the Community Foundation awards approximately 30 percent of its grant funds to education programs—$2.6 million in 2008-09.
Grand Rapids Community Foundation leads Kent County in making positive, sustainable change. With its endowment, the Grand Rapids Community Foundation supports local nonprofits, leads significant social change and helps donors achieve their philanthropic goals. For more information, please visit www.grfoundation.org.