It was the second day of a summer of opportunity and I could feel the energy stirring. Students of Bethany Christian Services' summer employment program trickled in and sat around the U-shaped table, respectfully chatty and ready for the class to begin.
Today's topic: Interviews and areas to market to be successful.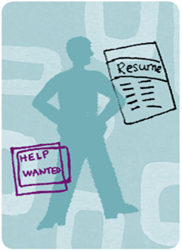 Did you ever master the art of interviewing? Chances are, you didn't enter your first (or second, or tenth) interview as an amateur and come out a pro. Maybe you've stood in front of the bathroom mirror working on smiling and maintaining eye-contact while answering your own questions. Or perhaps after experiencing enough awkward and unsuccessful interviews, you started to become more comfortable and confident.
On this particular day of Bethany's pre-employment training, we were all reminded that the skills that make you successful in interviews and in a career are not mastered all at once, but are things to learn and practice throughout a lifetime.
One large emphasis was placed on soft skills, or the skills that aren't easily measurable like interpreting the meaning of conversations, controlling emotions, being friendly, and fostering good relationships. "Potential employers look beyond the tangible, hard skills of a job. Our program gives our youth the opportunity to develop relationships, communication, and professional skills both in the training and on the job," said Carena Shannon, Youth Development Specialist, Bethany Christian Services.
The students themselves said that their skills come from school, volunteering, and learning communication and listening skills in everyday life. One student mentioned, "In sports I learn skills like teamwork, work ethic, and discipline."
I loved to see the connection they made to other important areas of life. What these kids learn in pre-employment training is valuable on the football field, in the classroom, in an interview, on the job, in the home, and the list goes on.
What a cool thing to witness as a result of our summer youth employment grants! Justin Beene, Youth Department Manager at Bethany Christian Services said that a huge benefit is that "the grant allows us flexibility." They are able to use the money in the ways that will best serve this program and the individuals that take part in it, whether they are refugees, have a foster care background, or are pursuing their GED. This is an invaluable step on their journey of life-long education.