Post Written By Jacquelyn Zeman, PR Intern
When East Kentwood native Sekayi Bracey was just 8 years old, her elementary gym teacher encouraged her to pursue running.
"We had a field day," Sekayi said. "(My teacher) realized how fast I was. He told my mother that I had a gift and I could go somewhere with it."  
Eleven years later, she's still running and can claim 10 individual state titles earned during her high school track career. Sekayi also earned a spot on the women's track team, with a full-ride scholarship to Purdue University in Indiana.
Not long after being discovered by her teacher, Sekayi began running competitively. In 2006, when she was 8 years old, Sekayi ranked third in her age group for the long jump and 200-yard dash in the state.
Sekayi was highly involved with the Grand Rapids Track Club's summer youth program. It was her mother, Yamaka Bracey, who founded the group "I was running alone until she started it," Sekayi said. Describing her experience as "amazing."
"Honestly, it got me to where I'm at today," she said. "(It helped me) accomplish the things I did in high school, like breaking records and becoming a state champion."
The Youth Grant Committee at the Grand Rapids Community Foundation awarded a grant to the track program that year and Sekayi was featured in our annual report for 2005-2006.
She's a college freshman with aspirations to work in forensics someday. Another one of her major goals is to compete in the 2020 Olympics. "That has been my dream since I was 8, so I really am seeking to fulfill that," Sekayi said.
At 5 foot 3 inches, she is on the shorter side for her events as a sprinter and jumper. She advises anyone who also wants to be a college athlete to "stay focused."
"Always take care of the little things, because the little things help build up to the major things in life," Sekayi said. "Focus on keeping your grades good and when it's hard, always just push through because you are going to have hard days sometimes."
Sekayi describes her running as "an escape." Prior to each race, tries to "really visualize each jump I'm gonna do, before I go onto the track."
Her personal records include a 100m dash of 11.68 seconds, 200m of 23.61 seconds, 60m of 7.41 and a long jump at 19 feet, eight inches.
Among these accomplishments, attending college is what she is most proud of. Sekayi said this is because her parents did not have the same opportunity as her. The family has five children, Sekayi is the oldest. Her siblings are all runners, too. "Which is crazy because none of our parents ran."
Growing up, her role model was Florence Griffith Joyner (Flo-Jo) who is considered to be the fastest woman of all time. Sekayi said that having the ability to inspire people, like Flo-Jo, makes her want to have an impact in the running world.
"God got me to the place I am today, and he has blessed me with a gift," she said.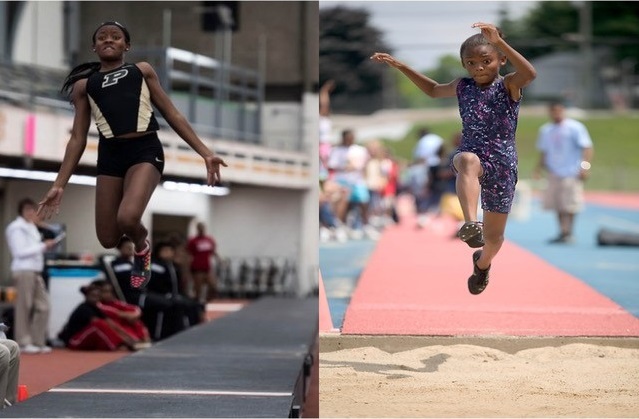 Photo on the left is Sekayi at Purdue taken by Matt Staudt, photo on right is Sekayi from our 05/06 annual report taken William Hebert