On June 13, we were honored to have Linsey Gleason, partner in the Estate Planning Practice Team at Varnum, join us for a Facebook live session on estate planning. Like many things in life, the video did not go exactly to plan, but we still had a lovely conversation with her from which we think you will learn a lot!
 We are especially grateful to have had Linsey join us because this topic has been the focus of her career at Varnum LLP, where she has been on the estate planning team for 10 years. At Grand Rapids Community Foundation, we often receive questions about estate planning and how to include nonprofits as beneficiaries. As a supporter and partner of the Community Foundation, Linsey was the ideal candidate for this conversation.
Here is a peek into the conversation that Linsey and Shaun, our major and planned gifts director, had on June 13: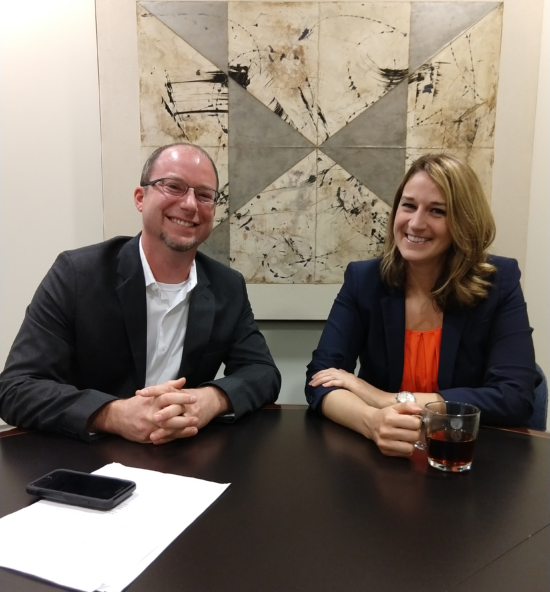 For those in our audience who perhaps don't know much about estate planning, the process can seem intimidating. Who exactly needs an estate plan? Is this just for those with complex assets?
Linsey gets this question a lot. She noted that it is less about if you need one but rather that you want one to ensure that your assets are being directed in the way that fulfills your desires and legacy in the most efficient manner, and sometimes more importantly to ensure you've selected trusted individuals or institutions to help with important decisions throughout all stages of life. She told us that anyone over 18 should have an estate plan. You don't have to have complicated assets or a lot of wealth for this to make sense for you. And it truly is an act of love for your family. You certainly want a will or trust to determine where your assets will be directed (family, charity) when you are gone. It also important to discuss designation of a patient advocate and a durable power of attorney to act on your behalf for health care and financial decisions should you become incapacitated.
Where do you begin when thinking about creating an estate plan?
Utilizing a local estate planning expert like Linsey is a great place to start! Typically through two simple meetings Linsey said she can get most clients' plans implemented. They have a comfortable conversation and discuss who will be in charge of the various decisions to be made, where you want your assets to go, and more. You can also use the tool the Grand Rapids Community Foundation put together for you by going to www.grfoundation.org/love. This editable pdf is a way to think through the elements of an estate plan.
How do you do you guide your clients through the process of leaving a bequest to a nonprofit organization in their plan?
Linsey asks her clients if they would like to include a charitable beneficiary in their plan.  If the client is making gifts during their lifetime, this can help guide the conversation about bequests.  If the client isn't set on supporting a particular charity in their estate plan, many times a conversation about their broad interest areas is appropriate.
What are some unique ways, besides cash, that you can make a planned gift?
"Naming a charity as a beneficiary of retirement assets (IRAs, 401(k)s) is a popular vehicle and has tax advantages" Linsey said.  She also discussed the fact that charitable gift annuities and charitable remainder trusts are options that she can explore with her clients. During the conversation, Shaun brought up the fact that you can also designate Grand Rapids Community Foundation as a life insurance beneficiary. He noted that some donors have even left real estate to the Community Foundation! The main message here was that there are many ways to use your assets to benefit your family and community. You can show love to those people and passions you care about in the community, and there are professional advisors, like Linsey who are ready and able to help you navigate what it takes to make it happen! 
An example of a gift the Community Foundation received that was an act of love for the community:
Shaun brought up the story of a bequest Grand Rapids Community Foundation received in the late 1980s from a man named Charles Evenson. He was from a transplant to Grand Rapids from Wisconsin and started a business making boat propellers. He remembered spending much of his time as a child outdoors so when he passed he left a bequest to the Community Foundation to start a field of interest fund for the environment. That fund now supports many projects in the Kent County area. Mr. Evenson, through his act of love for the community, solidified his legacy in this community forever. Linsey mentioned that she has many clients like Mr. Evenson who want to make sure that they are supporting the causes they care about into the future, trusting the expert knowledge of the Community Foundation to find the most pressing needs of the time. 
Resources: 
Linsey is a partner in the Estate Planning Practice Team at Varnum Law. Her practice includes full-service estate plan preparation, estate and trust administration, guardianship and conservatorship services, elder law advice and special needs trusts. You can reach her at lgleason@varnumlaw.com. 
Shaun, major and planned gifts director, explores ways to introduce new donors to the Community Foundation through the creation of donor advised, unrestricted, field of interest, scholarship and nonprofit endowment funds. You can reach him at sshira@grfoundation.org.
The Organizer is an editable pdf that you can use to organize your personal, charitable and financial record. Click here for a link to use this free resource.