When you hear the term "estate planning" do you feel slightly intimidated? You're not alone! Many people feel that it is only for those with complicated assets or law degrees. The truth is, estate planning is something that everyone can do and Grand Rapids Community Foundation is here to help.
We want to make it easy for you to start. We know that organizing your estate plan can seem daunting. That's why we've created an editable PDF that can serve as a central source of your important information. This organizer is a simple way to keep all your details in one place. Click the image below or head to www.grfoundation.org/love to download the document.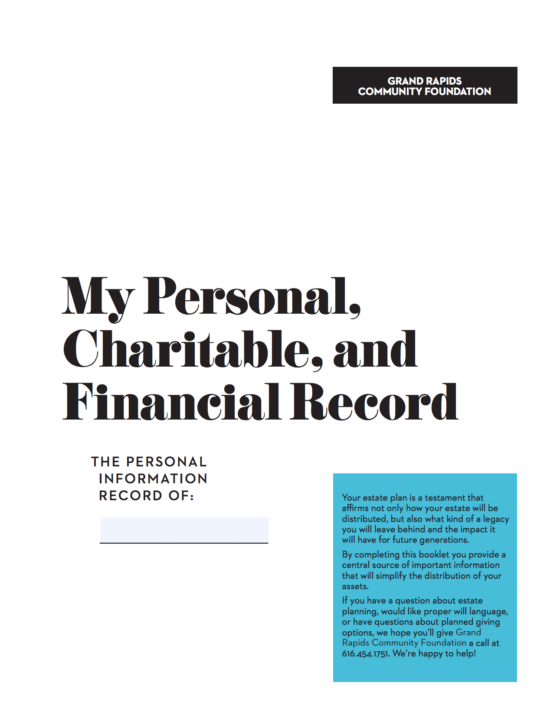 We hope this Personal, Financial & Charitable Record will help you keep your estate planning organized. When it is complete, save this PDF on your computer or share it with the executor of your estate or your estate planning attorney. Because it can be edited right on your computer, we hope you find it easy to update as things change.
If you don't already have a professional advisor, such as an accountant, financial advisor or lawyer, then Grand Rapids Community Foundation is a great place to start exploring your planned giving options and the legacy you want to leave. We have knowledgeable staff and a strong network of trusted professional advisors that we can help connect you with.

We're here to help you understand your options and explore creative ways to leave your mark on the community you love. We are happy to discuss what options may be best for your personal situation confidentially and under no obligation. If you would like to set up a time to discuss, please contact Grand Rapids Community Foundation at 616.454.1751.