Metz Legacy Society 2021
Celebrating Poetry and Philanthropy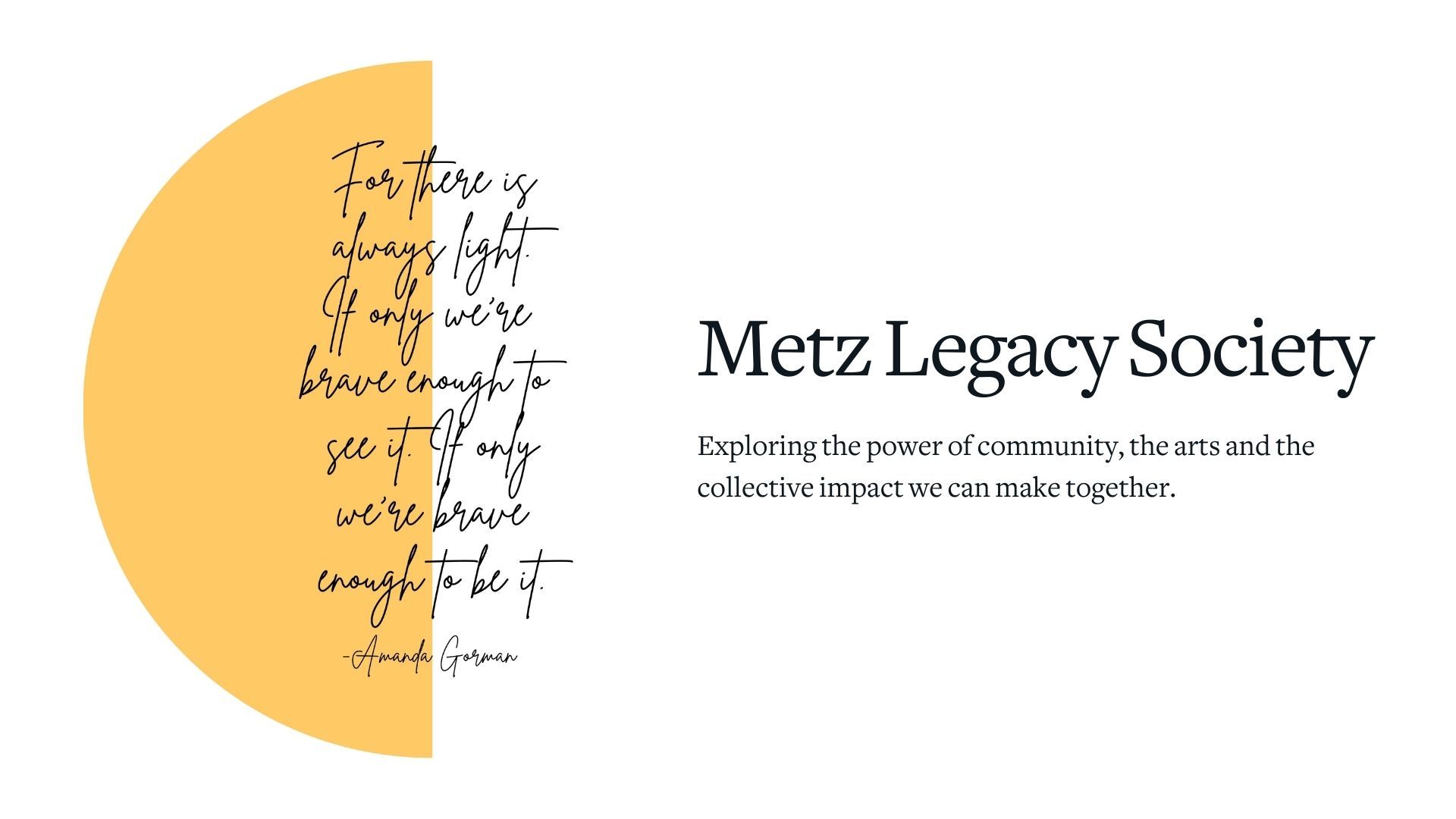 Poets laureate reflect and inspire
Arts and cultural opportunities are some of the most inspirational, lasting ways that a community can leave a legacy. This year, as we celebrate members of our Metz Legacy Society and close friends to honor their commitment to leaving a lasting legacy in our community, we are exploring the impact of poetry in our communities.
Amanda Gorman, the youngest inaugural poet in U.S. history, is an award-winning writer who inspired the nation. We are proud to offer a special edition of her poetry "The Hill we Climb" as a gift to Metz Legacy Society members. The gifts have been purchased through We are Lit, an independent, multicultural bookshop based in Grand Rapids, where you can purchase an additional copy if desired.
Our Local Poet Laureate
Ericka "Kyd Kane" Thompson is the current Poet Laureate of Grand Rapids. Kyd uses self expression to generate social dialogue about the good and bad of the human experience, by exploring themes such as; poverty, privilege, gentrification, resilience and identity.
In this video, she shares her perspective, answering the questions "what is a poet laureate?" and "who is poetry for?". Hear her encouragement for all people to express themselves through the arts.
Thank you to our sponsor
Celebrating our Metz members
Rhoades McKee
For years, Rhoades McKee has generously sponsored the Metz Legacy Society events. Their partnership encourages the philanthropic spirit so important to West Michigan. Hear a message from Pam Cross, a Rhodes McKee estate planning attorney, or learn more about their practice.
Metz Legacy Society
Honoring those who have passed
The Metz Legacy Society recognizes those donors who have included Grand Rapids Community Foundation in their will, estate plans or have created a life income gift to the Community Foundation.
Learn More about the Society
Gasper Amodeo
Service and Commitment
Gasper "Gabe" Amodeo, retired from Bishop Distributing after 50 years of service. He was a longtime member of Our Lady of Sorrows Catholic Church where he served as Chair of the Finance Council and was very involved with many church activities – especially their spaghetti dinners. As a member of the Metz Legacy Society, he prioritized Kent County in his philanthropic plans.
Sharon Buursma
Successful leader and dedicated volunteer
Sharon Buursma wanted to make a positive difference in the world. She started her career as a nurse before earning a Master of Business Administration with Distinction from Grand Valley State University and taking leadership positions at the Visiting Nurse Association of Western Michigan and Spectrum Health. She volunteered her time and expertise with organizations including Gilda's Club and the American Heart Association. Honored for her work and community leadership, Sharon also served on the boards of many national, state and local boards of directors for health care, business and educational organizations.
Norm De Graaf
Decades of support for community
Norman DeGraaf was born in Grand Rapids in 1930. A man of many endeavors, he made his living in the family insurance business, but fulfilled his calling contributing to life in many more ways. Norm had a love for politics and managed many local campaigns. Norm valued travel and was a strong supporter of Christian education. He and his wife Mary traveled extensively, particularly enjoying trips to Aruba and the family cottage on Lake Michigan.
Janet Haynes
Leadership and Service to Kent County
Janet Haynes lived a life of adventure, accomplishments, love and service to family, friends and the community. Raised in Marquette, she worked as a teacher, nurse, lawyer and judge during her impressive and pioneering career. In 2006, Janet retired as Chief Judge from the Kent County Probate Court. Throughout her life, she was active in professional and community organizations, serving as President of the GR Bar Association and being recognized as a YWCA of West Central MI Tribute Honoree. It was a rare day that Janet did not burst into song, whether a Broadway musical or Billboard top hit.
Evelyn Kasperlik
Giving to meet future needs
St. Johns Endowment Fund
Evelyn Kasperlik moved to Grand Rapids in 1948 for a career opportunity in the insurance industry. She met and married Richard Partridge, who passed away from a car accident in 1975, before marrying Max Kasperlik. Evelyn was an active member of the Sacred Heart Catholic War Vets Auxiliary post 1500 and a member of St. Pius X Church of Grandville. As a member of the Metz Legacy Society, she prioritized Kent County in her philanthropic plans.
Brian Tingley
A zest for life and community
Varied interests and passions colored Brian Tingley's life. A machinist who helped build his family's businesses, Bend Tooling and Proto-Cam, and became Operations Manager, Brian was always dreaming up ideas to make processes better, faster or smoother. With his wife Vicki, Brian enjoyed life and faced challenges, including kidney disease which played a role in the second half of his life. Brian had many special bonds with his family, who shared hobbies—like sports, music and cars, especially Corvettes. He and Vicki had a soft spot for animals and rescued many, in addition to financially supporting animal centers.
Questions about your philanthropy or delivery of your gift? Let us help!
Development Officer

Events Project Manager