One Hundred New Philanthropists
The Next Generation of Philanthropists
Our community has a great legacy of giving back and growing Grand Rapids. One Hundred New Philanthropists are a new generation of philanthropists committed to helping Grand Rapids Community Foundation usher in our second century. In 2022 the Community Foundation celebrated being 100 years old and recognized these community-minded people who have a clear vision for the Grand Rapids of tomorrow.
Our One Hundred New Philanthropists
Ushering in our second century
Mark and Wendy* Anderson
Rev. Katherine L. Baker
Brian Bakker
Corey and Rebecca Balkon
Ken Bandstra and Ken Terpstra
Laurie Finney Beard
Jesse M. Bernal
George and Jill Bosnjak
Mark Breon
Renwick Brutus
Mandy and Christian Chardoul
Iain and Michaele Charnley
Molly and Colin Chelovich
Tracie and Chad Coffman
Erica Curry VanEe and Brian VanEe
Thomas C. & M. Lynn Dandridge
Jennifer and David Deamud
Jason and Stephanie Doublestein
Lucy Dyer Joswick and Scott Joswick
Jason Franklin
Brent and Ronda Geers
Linsey Gleason
Dan Grzywacz and Holly Westhouse
Graci Harkema
Jeff and Laura Hill
Jenifer Jackson
Kenneth and Tamasha James
Andy and Christina Keller
Paul and Beth Kelly
Chris and Amy Knape
Carrie and Mike Kolehouse
Nakia Kyler
Mr. Marc Mitchell and Dr. Brandy Lovelady Mitchell
Jan Lunquist and Michael May
Ron Marsteiner
Michelle McHale-Adams and George Adams
Jason and Kate Meyer
Daniel Miller and Susan Wright-Miller
Bryant and Audrey Mitchell
Gordie and Jan Moeller
Matt and Stephanie Muscat
Dr. Tony and Linda Nemec Foster
Dr. Theresa Osmer and Dr. Eric Graf
Scott Pruski
Richard A. Roane and Leandro Robles
Marjorie and Bud Roegge
Lisa M. Rose
Bob and Marcy Roth
Megan Rydecki
Carlos Sanchez and Lynne Pope
Ryan Slusarsyk
Steve Steketee
Lawson and Suzanne Sutherland
Elliot Talen
Aaron Terpstra and Berniz Constanza Terpstra
Nick Thole and Amy Turner-Thole
Dave Thompson
Aleka Thrash
Caitlin and Paul Townsend Lamb
Rick Treur
Selma Tucker
Ben and Emily VerWys
Phil and Kathy Vogelsang
Reneé Williams
Gabriel Works and John O'Connor*
Chelsie Wyse
(2) Anonymous
*Deceased
THE COMMITMENT OF 100 NEW PHILANTHROPISTS
Giving Today and in the Future
Our New Philanthropists Pledge to:
Volunteer. Members are engaged in the community, getting involved with a committee or through hands-on volunteering.
Give Now. New Philanthropists show their support the Community Foundation with an annual gift to the Fund for Community Good at a minimum level of $500 a year, or by establishing a Donor Advised fund or Named Field of Interest fund.
Give Later. By including a provision in their will or estate plan for the benefit of the Community Foundation, New Philanthropists support our community's future.
Share Their Story. New Philanthropists share why they give to the Community Foundation, telling us about the causes closest to their hearts, and encouraging others to give.
Celebrating 100 New Philanthropists
Honoring 100 New Philanthropists
The Jack Chaille Community Philanthropy Award
The 100 New Philanthropists cohort members are recipients of the 2022 Jack Chaille Community Philanthropy Award. The award was presented for the first time in 1997 to Jack Chaille, a partner whose longstanding support, visionary guidance and community leadership created a lasting impact on the Community Foundation. Since then, we have recognized leaders who share a spirit and passion for the Community Foundation and for philanthropy.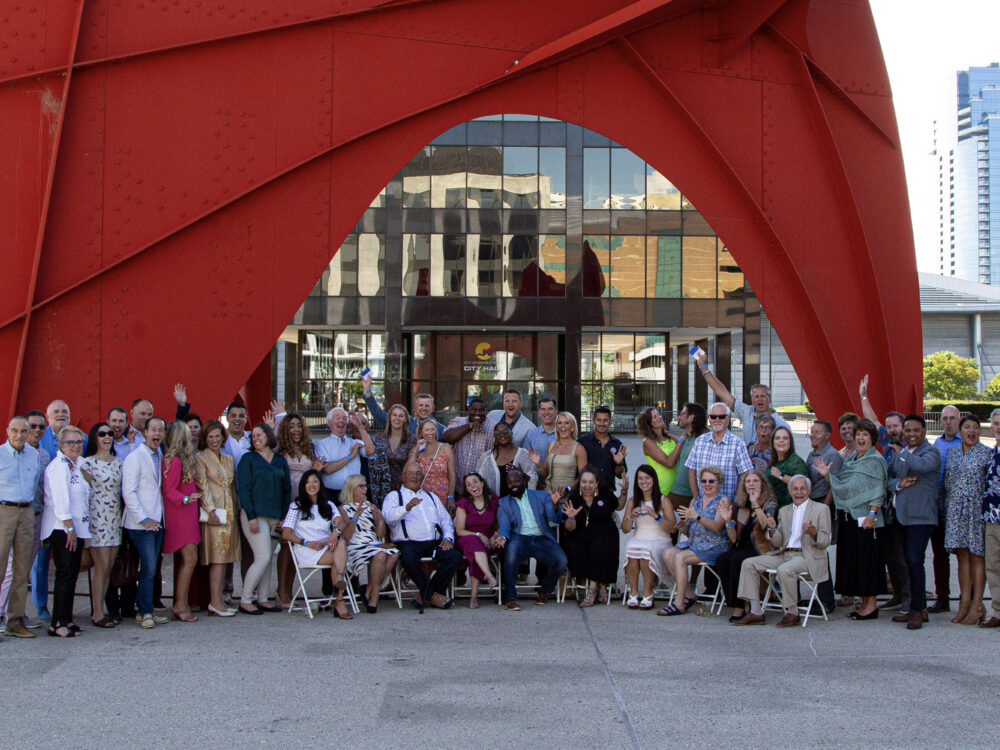 One of the One Hundred
Becoming Stronger Philanthropists
Mandy and Christian Chardoul
"With One Hundred New Philanthropists, the Community Foundation set the ground for new philanthropists to come into the community and build confidence in giving. It's like a training program or on-ramp for philanthropy," Christian said.
"The community Foundation saves us time, because they're looking at community causes and needs, and they know how to partner with different organizations to create synergy of the dollar," Mandy said.
One of the One Hundred
Education+Justice
Brent and Ronda Geers
"What we get from giving is being a part of a community where the needs of the people are met. To us, it's almost an act of citizenship, a responsibility to the community. The Community Foundation is an unsung hero in our community. Few things happen in Grand Rapids apart from them. Back in 1996, Brent benefited from the Community Foundation's work as a scholarship recipient and, in part due to many other contributors, we're now able to become philanthropists."
One of the One Hundred
Focusing on Equity
Aaron Terpstra and Berniz Costanza Terpstra
"We would like Kent County to be a place where people would be treated with respect regardless of their race, age, ability, status or gender. We want Kent County to be a city on a hill where everyone has access to affordable housing and receives fair wages for their work."
One of the One Hundred
A Soft Spot for Challenge Scholars
Brian Bakker
"I have increasingly felt that I should be doing more to support the community. I give to organizations that attempt to give children, often with heavy odds working against them, a better chance at having control over their future. I was drawn to the Community Foundation's Challenge Scholars program. A part of me cringes every time I hear complaints about the quality of our city's public schools. How cool would it be if, one day, people insisted on living downtown specifically for the high quality of its public schools? Challenge Scholars encourages students to think critically about the long-term impact a college-equivalent education can have on their lives. It incentivizes them to prepare by achieving higher academic goals today."
Ready to Learn More?
Let's Chat!
Are you ready to be part of making change happen here? Our 100 New Philanthropists cohort is complete, but we'd love to talk about what you hope to achieve and how you might partner with the Community Foundation.
Contact Us