What's in a dream? A dream is like a seed of something beautiful. Something necessary and beneficial. But it needs the right conditions to grow. It needs to germinate by means of fertile soil, adequate temperature, light, and moisture.
We frequently hear this analogy of growth used to encourage the dreams, big dreams, of students when it comes to their future, their postsecondary adventures and bold career plans. But, do we focus on the conditions required for growth? Do we consider the environment and circumstances needed to make those dreams a reality?
Cultivating Growth
After wrestling with these thoughts and gathering many community voices for input, the Challenge Scholars Dream Fund was created. Its purpose is to germinate ideas and help them grow in a way that will impact the larger goal—postsecondary success.
Since its launch in August 2018, the Dream Fund has been busy. The Dream Fund Committee has met five times, awarding $64,245 to 30 projects, grants in all shapes and sizes.  From revitalizing a school greenhouse, to making take-home literacy kits for young readers; from civil rights education through spoken word poetry, to securing another college adviser to help more high school students navigate their path to college, the Dream Fund is sowing seeds of success.
So far, the grants have ranged from $160 to $9,000, but recently Grand Rapids Community Foundation has opened the doors for even greater impact. As of January 2019, local nonprofits can submit applications for grants of over $10,000. We expect that the Dream Fund will only increase in variety and scope of impact on the west side as the school year progresses.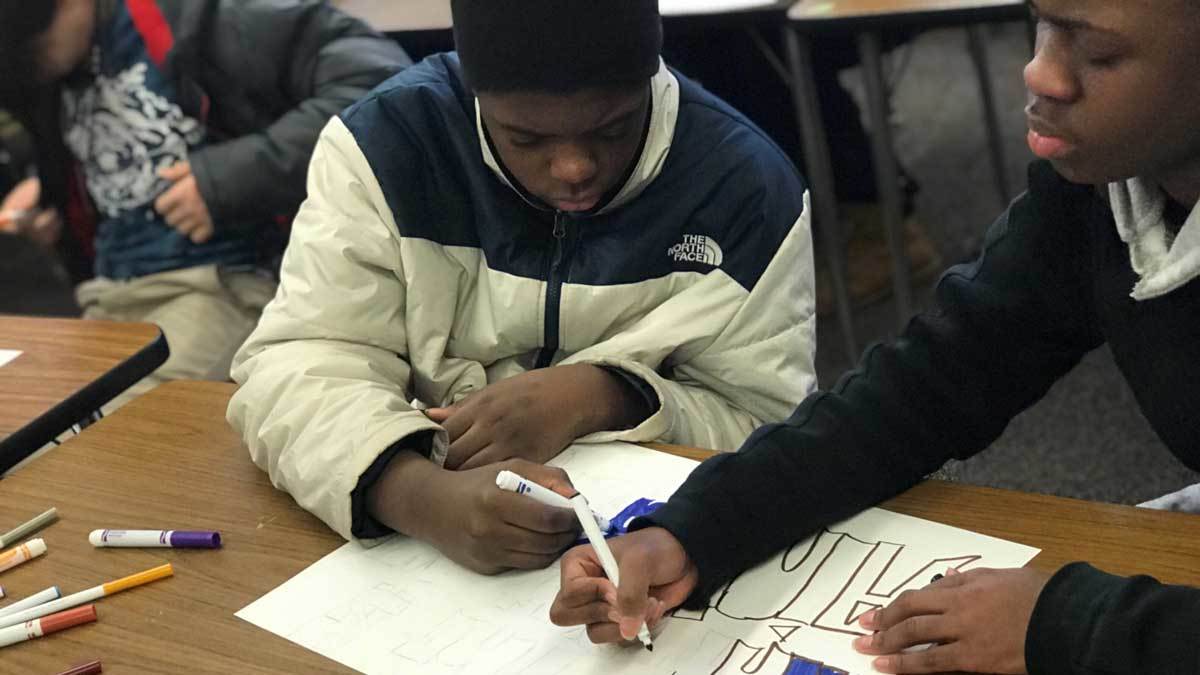 Work in Action
One great example of the work being done by our nonprofit partners is the Writing to Right Wrongs program put on by the Fair Housing Center of West Michigan and The Diatribe. They received a grant of $5,000 in January 2019. The funds are being used to combine civil rights content (with a focus on fair housing) and the spoken word to empower at least 30 students in Ms. Smith's first period English class at Union High School. With a better understanding of their rights and the importance of place and how to use their creative voice in positive ways, they can express themselves and impact their community.
Writing to Right Wrongs Testimonial
As a teaching artist and co-founder of The Diatribe, collaborating on this program with the Fair Housing Center of West Michigan has been incredible. The students in Ms. Smith's first hour class at Union have blown us away with their insight and reflection on the material. The content of the program informs young people of their rights and the role the Fair Housing Center plays in fighting discrimination in our city; and the writing prompts and performances inspire them to not only write about what they see happening in their neighborhoods, but also to engage with their community by sharing their experiences and opinions.
I love being able to teach history that is not often talked about in the classroom, specifically diving into local history, addressing systemic racism, and hearing powerful student voices on these subjects. These brilliant young people make me hopeful about the future of our city and the roles they will continue to play in our community.
-Rachel Gleason, director of education, The Diatribe
Learn More
Are you interested in learning more about the work that the Challenge Scholars Dream Fund is doing on the west side of Grand Rapids or applying for a grant to support your great idea? Read more on the website: challengescholars.org/dream-fund.
Ben Oliver is a program officer for Challenge Scholars at Grand Rapids Community Foundation. He works with schools and community to enhance the eco-system of support for Challenge Scholar students and families in West Grand Rapids. He is a leadership member of the WestSide Collaborative, To College Through College, and KConnect's High School to Career Workgroup, and serves on the City's Affordable Housing Community Fund and the Latino Network of West Michigan.