The art we create and experience helps us find meaning and grow understanding of our communities and societal structures. Grand Rapids Community Foundation values art as a powerful tool to disrupt inequality and tell truer narratives. As part of Black Philanthropy Month, we are spotlighting two local artists, Asia Horne and Jasmine Bruce, who have demonstrated their own philanthropy and service to the community.  
Asia Horne is a Grand Rapids-based creative director, studio founder, digital artist and DJ. Designing since the age of 12, the self-taught creative's experience ranges from editorial to brand design. She now dedicates her time to empowering local Black and brown artists through community art initiatives alongside her collective, Element 7 (@elementsvn), and creating space inside her SW GR studio, Free Alchemy (@freealchemystudio). 
Jasmine Bruce is a visual artist whose work emphasizes the healing power of creating (@jasminebruceart). Currently based in Grand Rapids, Michigan she obtained her BFA from Grand Valley State University. Her versatile and powerful style tells the story of a universal trauma. Ancestral and ancient, this pain carves deep from veins beneath the skin and surfaces as blemishes of the Ism: racism, alcoholism, narcissism. It surfaces as insecurities, anger, abuse, violence, imbalance. Her work aims to draw out this pain, restoring balance and connection with the inner, outer and divine self.  

We spoke with Asia and Jasmine about Windows GR, a community art project that arose following the protests last summer in downtown Grand Rapids.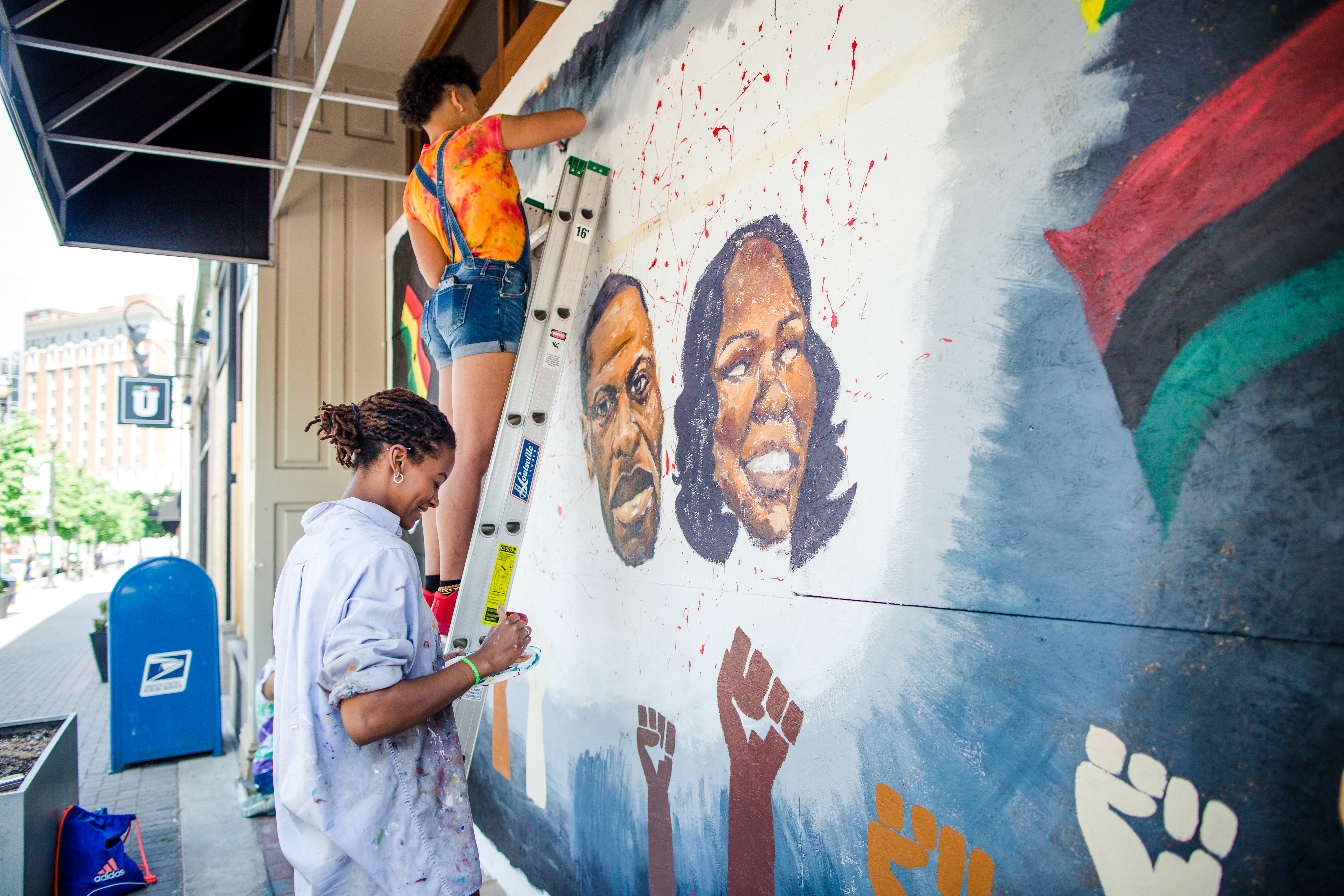 Photo by Leandro Lara

What were the goals of the Windows GR project? 
Asia: "Following the uprisings stemming from the news of George Floyd's murder at the hands of Minneapolis police nationwide and here in Grand Rapids, there was a lot happening at once—all amid a global pandemic. Broken windows were scattered around downtown, and there was a collective sentiment of grief, pain, anger, sadness, frustration seeking an outlet. Windows GR provided an outlet to channel those emotions. Guillermo Sotelo, a local graffiti artist, saw the hidden opportunity in the replacement wood panels that became canvases for artists to express themselves and create that outlet we all needed during a time of unrest in the city and the world. The initial goal of the project was to commission artists to paint the boards around the downtown area, but later transformed into the goal to empower and celebrate Black art and voices especially because our voices need to be heard. We deserve to speak to the issues that directly affect us. We deserve to represent ourselves." 
What went well? What challenges were faced?
Asia: "Seeing the community come out in droves, whether it was to paint, to donate time and resources like paint, brushes, food, and supplies was very beautiful to experience in real time simply because that time was so heavy. It felt good to come together. Art is truly healing, so naturally the fact that participation in the project meant having the chance to create something around how people felt, what people wanted to see changed, what messages the community wanted to share and give light to, it was such a powerful thing to be a part of. 
There were several challenges we faced. With the boards artists painted being the replacement of businesses' windows, the art was at the discretion of the business owners, some of which did not support the messages. One business owner painted over artist Dave Benoit's piece without anyone's knowledge and with no apology, which was both heartbreaking and sobering because it reminded me of the reality of the world as we know it. Everything isn't sweet. But, if anything, the project opened the floor for the hard conversations that need to take place." 
What feedback did you hear from the community about Windows GR? 
Jasmine: "Pushback. Praise. Anger. Passion. Ignorance. Support and lack thereof—truly a full circle of emotions from Grand Rapids. I received comments that praised us for beautifying the city and covering up the damage. That was never the intention; the intention was to honor the pain and injustice, not cover it up. We received immense support from organizations like Downtown Grand Rapids Inc., Lions and Rabbits, and Grand Rapids Public Museum who bought three paintings as a part of their permanent collection. We had people who hated the project, laughed, threw smoke bombs at us, yelled racial slurs at some artists. There was joy, there were tears but most of all there was movement within the city. A leaf was turned and under it a lot revealed raw pain that still lies within our city."
Photo by Leandro Lara

What changes have you seen in Kent County communities in the past year since Windows GR began? 
Jasmine: "I've seen BIPOC artists build and set tables for themselves instead of waiting for a seat. It's quite refreshing to see us grow specifically through art and culture. There are several more permanent murals that have been put up, I've had an honor of helping create and continue to coordinate several of these. Yet, it's merely the tip of the iceberg and work must continue in every moment to create the world in which Black and brown people thrive as well." 
How can communities in Kent County support the work of art and promotion of racial justice? 
Asia: "Our mission as a collective is to continue our work together to empower Grand Rapids to build creative futures and catalyze social change through art and collaboration. A way the community can continue to support art is to show up. Showing up comes in different ways: sharing the art you see, crediting artists, paying artists fairly, creating opportunities and spaces to share the art—and showing up for the conversations that the art creates. Dialogue with purpose creates action that creates change."
What is the role you hope your art can play in promoting racial justice? 
Asia: "My sincere hope is that my involvement in projects such as these can break down the walls built up by unjust systems to drive forth the truth that art cultivates. I believe art is created from expression and vulnerability, rooted in personal truth. Us being able to speak our truths, in turn, speaks towards the change we're all working towards."
Jasmine: "Healing, providing a state mediation and calmness amidst all chaos. I would say my work operates as this 'eye of the storm': a moment of clarity where all imbalance and chaos and turmoil can be viewed from a place of quiet strength. I feel this softness is the driving force to promote racial justice. In order to see the change, we must honor the process, notice imbalance and mirror a response which reflects the world we would like to create."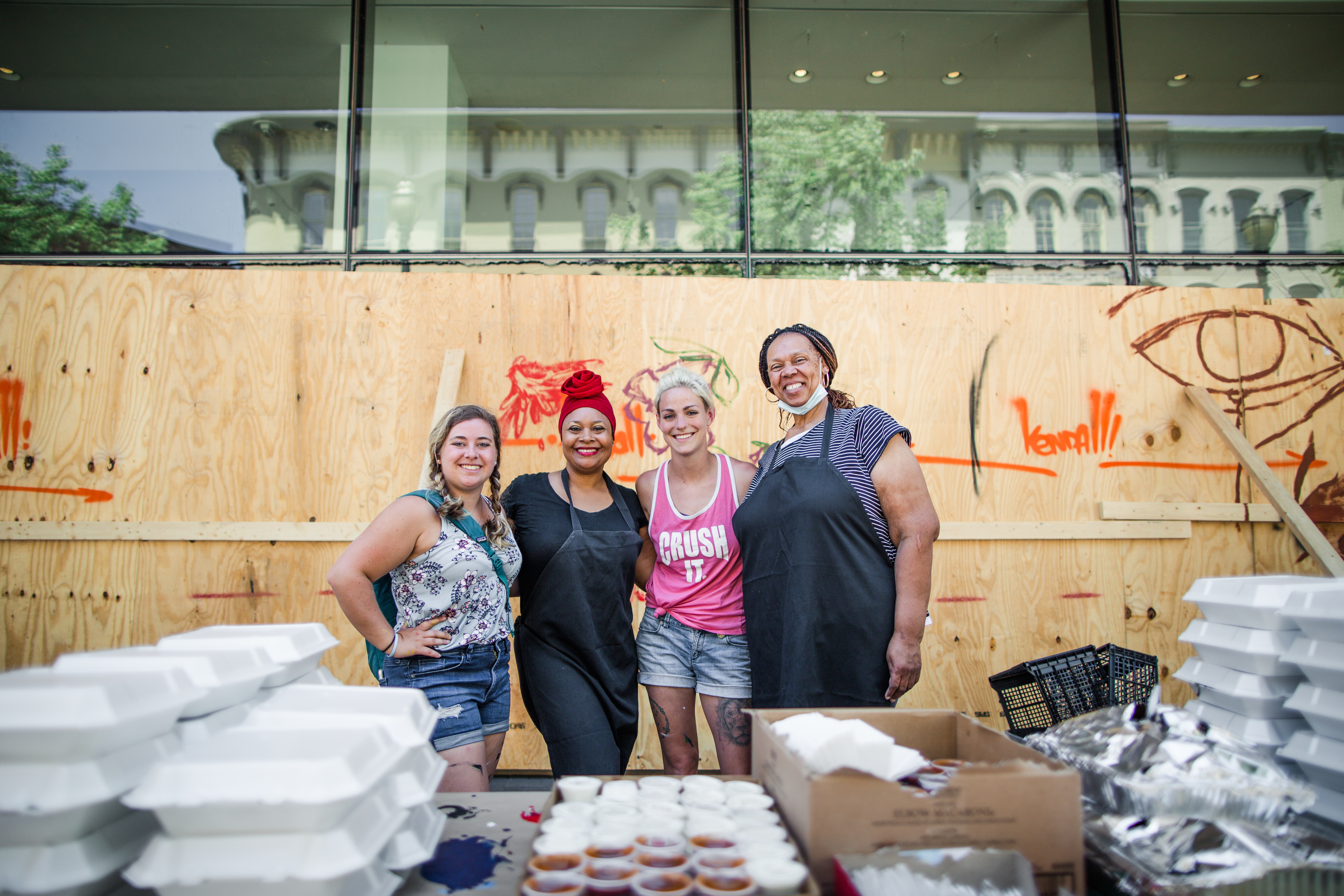 Photo by Leandro Lara