Grand Rapids Community Foundation's Board of Trustees recently approved a $10,000 grant partnership with African Resource Center to support their work in providing trusted social, academic and mentoring support for student refugees from Africa as they acclimate and feel belonging in our community. Specifically, the partnership supports FutureNow!, a youth support program that focuses on ensuring participants are able to achieve academic excellence and flourish in community. Beyond our grant partnership, the Community Foundation was excited to leverage our networks and share other funding opportunities with ARC, as well. 
ARC works with students primarily from Union High School, many of whom face significant challenges due to language barriers. In order to meet the growing need, despite not being able to meet at the center due to the COVID-19 pandemic, ARC adapted their service model to serve students and families. Bernard Ayoola, director of African Resource Center of West Michigan, shared some insights and stories with us about how the pandemic has affected ARC's work.
Tomorrow starts today
Bernard Ayoola
Collaboration fosters progress and engenders trust. Our partnership with Grand Rapids Community Foundation gives us hope on many fronts. First, we hope that the stories we tell about the challenges in our community would move people to action. The tagline of our FutureNow! youth empowerment program is, "Tomorrow Starts Today." Meaning, some of the hardship we may face down the road can be anticipated and avoided. We can set our youths up for future success by helping them to make the right decisions today.
Second, we hope this relationship will make our community more compassionate. Empathy, not pity, towards the less fortunate will yield a more peaceful and productive society. The political climate today has not helped matters. Anti-immigrant vitriol has heightened distrust among the different ethnic communities in West Michigan. What should have been a harmonious celebration of cultural diversity, unfortunately, has turned into a cacophony of distrust. I am optimistic that this condition will change as we continue to work with the Community Foundation and the other stakeholders in our community.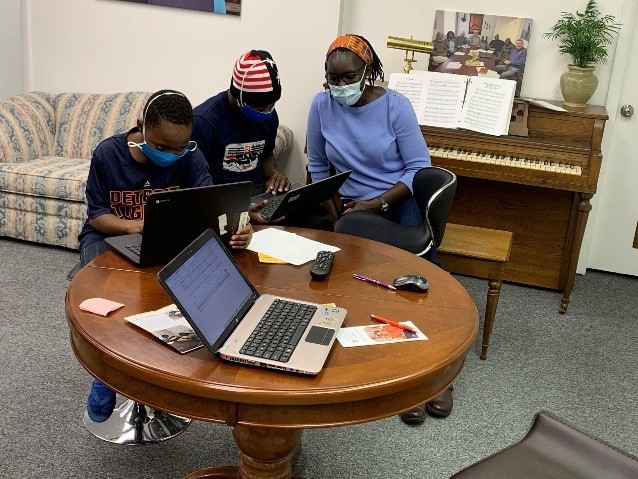 Two high school students learning at the African Resource Center
Welcome and equipped to thrive
Our mission at the African Resource Center is to inform, connect and equip African immigrants in West Michigan with the people and resources they need to transition into the North American culture. We work with families, communities and institutions that invest in creating an equitable community in which everyone is welcome and equipped to thrive.
Our initial community need assessment in 2014, when the African Resource Center was incorporated, revealed the dire need for social and educational support for immigrants who have arrived in the United States as refugees in recent years. In our evaluation, high school students in the upper grades are most at risk of falling through the cracks. These students, especially those enrolled in the 9th to 12th grades, rarely were advancing beyond the high school level. Lack of proficiency in English is a key contributory factor. Further, these boys and girls often contend with social and economic challenges at home. 
Our response, in 2016, was to set up an after-school tutoring program (FutureNow!) to provide the youth in our community with tools to confront their social and academic challenges.
The pandemic, which began in early 2019, has compounded the struggles of school-age youth, especially those from economically challenged immigrant families. Many had difficulties transitioning with their peers to online learning. Some had no internet at home; others had no computers. Some parents visited the African Resource Center to learn how to track their children's online activities.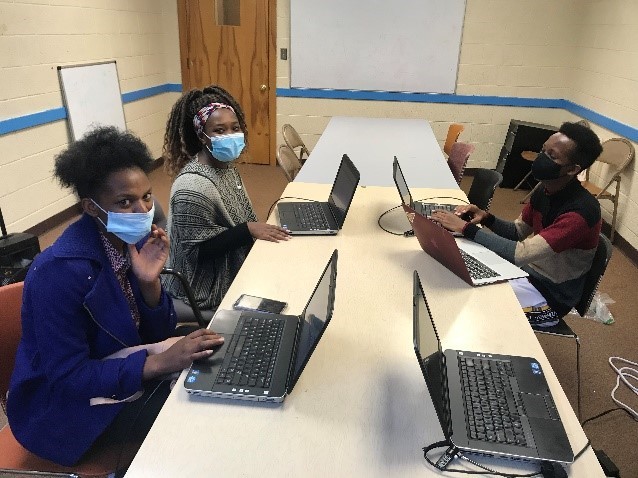 Three high school students at a study center supervised by the African Resource Center

Really, it takes a village…
ARC is having an impact on families facing difficult circumstances, which are heightened by the pandemic. A few months before the pandemic began; we received a request at the African Resource Center to check on two students who had not turned up at their high school for almost a week! I decided to visit this family to find out what was going on at home.
A middle-aged woman, I'll call her Amina for anonymity sake, met me at the door and welcomed me into her home. Amina wanted me to hear her out first before passing any judgment. So, I sat down and listened patiently to her story.
Amina arrived in Grand Rapids with two teenage boys a few years ago. Her husband had died in the refugee camp where the boys were born. She knew her health was deteriorating; a recent diagnosis had revealed she was going blind in one eye and her diabetes had advanced. Amina desperately wanted to support her family, but no one would employ her on account of her bad health. The bills kept piling up – rent, utility, food, clothes – she struggled to keep up. Someone had advised her to apply for disability benefits, but she waved off the notion. "I can't come to America to beg," she said proudly. In her mind, the boys were the last resort, and she was at the end of her ropes.
Of course, Amina knew the boys were skipping classes. She had sent them out to go look for work so they could pay the bills. The boys wanted to go to school, but they also believed the onus was on them to take care of family expenses. So, they went to school some days, and scouted the city for odd jobs on other days.
I assured Amina we would do all we could to help her family. Together, we identified what the key challenges were, and we agreed on a workable course of action. When I left Amina, she was satisfied her problems were surmountable that her teenage boys do not have to skip a day of school. 
The grant we recently from Grand Rapids Community Foundation has provided us with resources to address the salient problems of the most at-risk members of our community. We have expanded our student population from 65 to 105. With more families like Amina's asking for help, we hope to serve at least 200 students, from about 70 families, by the end of the 2021 school year. We are also grateful that this relationship is opening doors for us to work with other organizations that are committed to youth empowerment. After all, as the African adage goes, it takes a village to raise a child!