Members of Union High School's class of 2025 were officially inducted as Challenge Scholars this month. Currently in the sixth grade at Westwood and Harrison Park Middle Schools, the students celebrated this milestone with their families, classmates, teachers and community members.
The incoming Challenge Scholars selected the theme for their special day, "Cree en ti mismo," which means "Believe in yourself" in Spanish. "Believing in yourself is important," said Daney, a sixth grade student at Westwood Middle School. "It is hard to do anything you set your mind to if you don't believe that you can do it."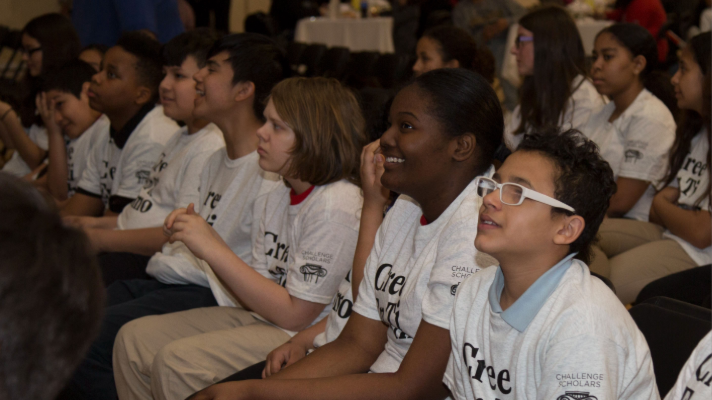 Challenge Scholars is a transformational community initiative, funded by Grand Rapids Community Foundation, that takes away the burden of affording post-secondary education for families on Grand Rapids' West side. Through partnerships with Grand Rapids Public Schools and other organizations like Kent School Services Network and WestSide Collaborative, Challenge Scholars offers a way for families to prepare for and cover the costs of education after high school.
Starting in 2020, students who stay on track and graduate from Union High School with good grades, attendance and behavior will be able to attend college or technical training tuition-free. To learn more about Challenge Scholars, visit challengescholars.org.
During the event, students heard from representatives from the inaugural class of Challenge Scholars, currently juniors at Union High School who will graduate in 2020 and continue on to college or trade school. An inspirational video was also shared with even more words of reflection and encouragement to the newly inducted scholars from the rising seniors. Check it out at https://vimeo.com/335422069!
Congratulations to the Challenge Scholars class of 2025!