At a recent event before their graduation from Union High School, the Challenge Scholars Class of 2023 were encouraged to "Dream - Decide - Do." It was one message in a day meant to help students identify their next steps and what they needed to be successful as they look toward postsecondary. About 50 students who have met the program requirements and are eligible for a Challenge Scholars scholarship were invited to attend.
At the event, students connected with college representatives, identified their action steps, built an understanding of their financial supports and connected with the T2C Studio, who partnered in hosting the event. To College Through College is an initiative of Our Community's Children, a public/private partnership between the City of Grand Rapids, Grand Rapids Public Schools and community partners. The T2C Studio, located at the GRPL Main Library, is focused on increasing the number of GRPS students who attain a college degree, breaking down barriers to student success by providing guidance and academic and financial resources.
"Our goal is for students to complete a degree or credential. We often talk about Challenge Scholars as being more than a scholarship because we understand that in addition to the scholarship, it takes a network of supports to make that degree attainment possible. Our partnerships are informed by what we hear from our students. We are seeing the needs they have, and we are actively responding to those needs," said Giuliana Estrada, Program Officer.

A key commitment of Challenge Scholars was to provide our students with post-secondary navigation guidance and support. Students currently benefit from college access programming at Union High School and the Challenge Scholars scholarship. However, we have found the need to adapt, taking new approaches to ensure students leave high school with awareness of support resources and why, when and how to access those resources.
The event formally introduced the 2023 cohort to T2C, beginning what will be an ongoing relationship. The Community Foundation's partnership with T2C is led by two values: student voice and community aligned response to student needs. A grant award will support an ongoing series of activities to support post-secondary decision-making and reduce summer melt among graduating seniors in the 2023 Challenge Scholars cohort.

"We have learned from students that it takes more than making college affordable for them to succeed. To center students and meet their needs, we also need to support their journey throughout post-secondary. We are committed to that, and partnership with T2C is one way we are doing that," said Angela Reyna Perez, Scholarship Coordinator.

In a follow up survey, students who attended the event said that they feel more confident in how to use their Challenge Scholars scholarship. Based on event reviews from the students, students walked away with at least two action steps and would like to remain in contact with the T2C Studio. One student said, "I liked getting some advice and it was like a icebreaker for college, and I felt more prepared. Another said their favorite part of the event was "hearing a speakers experience...it gave me the motivation I needed."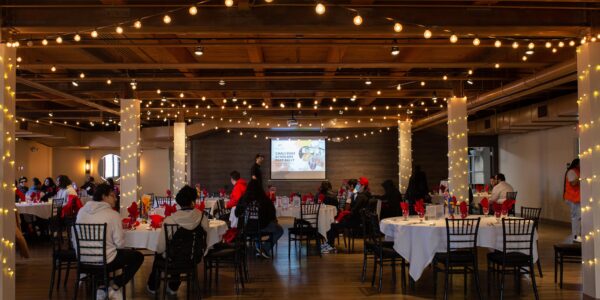 Interested in supporting education?
Interested in ways to support students and the Community Foundation's work around educational equity? Please contact a member of our Development team: Shaun Shira, Jenine Torres, or Marilyn Zack.